Smart Terminal Payment Processing | 

Discover Poynt
The smart payment terminal that has created a new standard of impeccable payment experience for retailers and customers. Smart, sophisticated and easy to use, it's designed to grow with your business. Poynt is a great option for new, established and growing retail stores, pop-up shops, and professional and personal services businesses. Restaurants also find Poynt a great fit for both counter-pay as well as pay-at-the-table transactions.
Click > Poynt-Solution-Sheet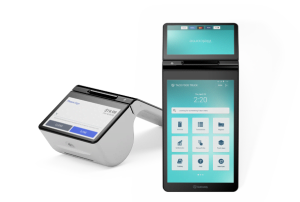 Poynt C
A turnkey solution
Features a mobile and countertop credit card terminal, printer, signature pad, PIN pad, and docking station.
Wireless freedom
Enterprise grade mobile (LTE/4G) & WiFi connectivity
Accept all payments
Processes all payment types – contactless EMV cards, Interac and mobile payments such as Apple Pay (NFC).
Powerful security
With Primary Account Number (PAN) encryption, your customers' data is protected by the latest technology.
Strong support
Includes a dedicated support team to help whenever you need it 24 hours a day, 7 days a week.
Robust reporting
Our HQ dashboard makes it easy to monitor sales, refund transactions, and settle with one click.